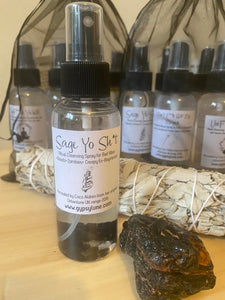 Sage Yo Sh*t Ritual Spray
Ritual Cleansing Spray for removing Bad Juju, Ghosts, Zombies and creepy ex-boyfriends! (And girlfriends to!)
There are places where you would just LOVE to get out your White Sage Wand, light it up and cleanse that bad juju away - but if you did that at work they may think you're a bit of a freak!  That's when this spray is perfect!!  Let them think its just an air freshener!!  
Use it on yourself to get rid of any old yucky energy that has stuck itself to you.....spray the bosses office when he's not looking!  
Black Obsidian crystals and oils of Palo Santo, White Sage and Sandalwood!