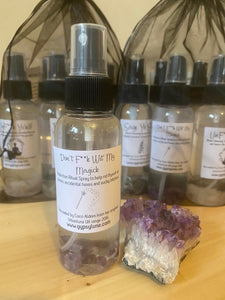 Dont F**k Wit' My Magick Ritual Spray
Protection Ritual Spray to help rid thyself of curses, accidental hexes and sucky bitches!
Need some protection?  Surrounded by negative people at work or have to attend those places thats full of energy vampires?  Then this is the spray for you!
Spray a few pumps above your head and let the mist of protectionget you through the day.
Amethyst crystals and oils of Sandalwood and Rose