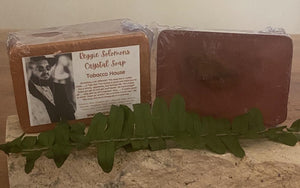 Reggie Solomon's Crystal Soaps - Rebranded to match our new Beard Oils!
In Reggie's own words........
Something a bit different! This soap has a crystal in - a Green Aventurine! This crystal brings good luck and we can all do with a bit of that! in fact.......it helps ya' make ya' own luck!! And it smells great to! Stops ya' smellin' like a camels armpit hey! Use this every day and you'll always be on a promise!
Fragranced with a blend of oils of: Clary Sage and Orris Root, Cedarwood, Tobacco Leaf, Tonka bean, Vanilla and Malt
Ingredients:  Glycerin, Aqua, Sodium Stearate, Propylene Glycol, Sorbitol, Sodium Laurate, Sodium Laureth Sulfate, Sodium Chloride, Sodium Lauryl Sulfate, Stearic Acid, Lauric Acid, Pentasodium Pentetate, Tetrasodium Etidronate.