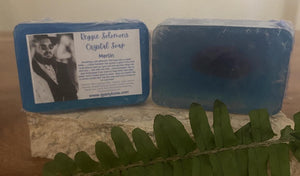 Reggie Solomon's Crystal Soaps - Rebranded to match our new Beard Oils!
In Reggie's own words........
Something a bit different! This soap has a crystal in - a Blue Sodalite! This crystal is great if ya' wanna' open up ya' gob a bit.....and say how things are with you! The toffs call it......communication! But it's all good if you want to keep those 'bad vibes' away!  And it smells great to! Stops ya' smellin' like a camels armpit hey! Use this every day and you'll always be on a promise!
Top Notes: Rockmelon, Bergamot
Middle Notes: Palm Leaf, Sea Spray
Base Notes: Musk, Hibiscus
Ingredients: Glycerin, Aqua, Sodium Stearate, Propylene Glycol, Sorbitol, Sodium Laurate, Sodium Laureth Sulfate, Sodium Chloride, Sodium Lauryl Sulfate, Stearic Acid, Lauric Acid, Pentasodium Pentetate, Tetrasodium Etidronate