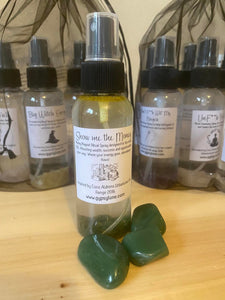 Show Me The Money Ritual Spray
Money Magnet Ritual Spray designed for the inner CEO.  Attracting wealth, success and opportunities you way.  Where you energy goes, abundance flows!
This new spray inspired by GypsyLune's Show me the Money Candle contains the same oil.  Orange.  Asian cultures beleive that citrus oils such as this attracts wealth.  Orange oil puts you in a "Money Mindset". 
Contains Green Adventurine crystals with oil of Orange.