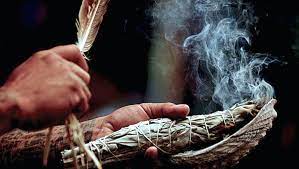 Starting at 7pm at the GypsyLune Shop 5/2 The Crescent Midland
A very popular subject!  Smudging is a way to energetically cleanse a space to invite positive energy. As the smoke rises, it takes your wishes and intentions and mingles them with the universe as a way to connect heaven, earth, and humanity. Burning aromatic herbs and resins was practiced in antiquity and is found in many cultures and spiritual religions. 
In this event you will learn how to use White Sage, Rosemary and Palo Santo with explanation on how and wy.  A psychic protection technique will be taught.
We stock all the requirements to do this at home and will have everything at the shop if you dont have any already or need to top up!!