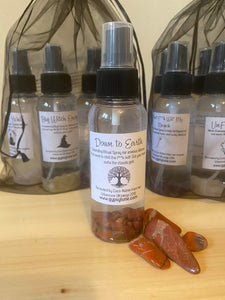 Down To Earth Ritual Spray
Grounding Ritual Spray for anxious Witches that need to just chill the f**k out!!  Get your head out of the clouds girl!
Life is crazy we know that and sometimes we are so "in our head" and "up in the air" that we need to get our feet back on the ground and get on with it! Spray this when you are feeling like this to bring you back to earth!
Red Jasper crystals with oils of cedarwood and oakmoss.