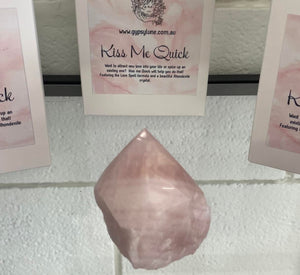 Rose Quartz meaning is that of universal love. Here is a crystal so ripe with healing properties, so drenched in harmony, and so tender that you will always want it close to you, or at least in a place you can turn to time and time again.
The Rose Quartz stone is strongly attached to both the heart chakra and the throat chakra  But it's not a stone that simply rests in romance. Rose Quartz speaks softly to all kinds of love; from healing communication with family to developing a deeper bond with spouses and friends, and even bringing sweeter notes of self-care into your own world.
Like all the ancient and highly revered stones of the world, Rose Quartz was crafted into precious jewelry by the Assyrians back in 800 BC. Since then, this soft and bright quartz has passed from civilization to civilization; making peace with the Greeks, preventing the signs of aging in the Egyptians, and used as a claim of ownership during Roman times. All believed in the passionate power of the rare and regal Rose Quartz.