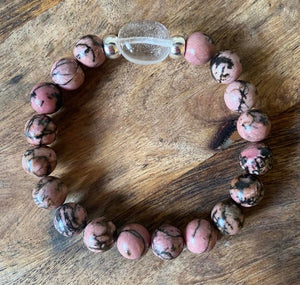 Known as the "rescue stone," the Rhodonite is one of the most powerful heart chakra stones in the gem world. The Rhodonite properties bolster feelings of forgiveness and compassion, the essential virtues necessary for unconditional love to flourish. Its strong heart-based medicine helps release your fears, which are sometimes disguised as toxic emotions like anger, jealousy, or resentment. But when you're in the presence of its powerful love vibrations radiating through an intense pink hue, you'll always see life through rose-tinted glasses.

The healing properties associated with the Rhodonite meaning are cherished in the gemstone world, especially because of the crystal's stunning appearance that resembles pink marble. Its intense shade of pink contains shadowy inclusions of manganese oxide, giving it synergistic properties that combine the heart energizing power of the pink color ray with the grounding and centering effects of earth elements. (Cr: Energy Muse)
The central crystal is CLEAR QUARTZ to enhance the energy of the other crystals.
These beautiful AAA grade crystal bracelets are now made in house!
These new bracelets are threaded with extra strong thread to eliminate the possiblity of them breaking.