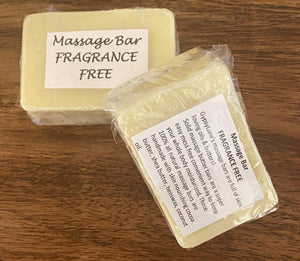 GypsyLune's massage bars are full of skin loving oils & butters!  
Solid massage butter bars are a super easy mess free convenient way to keep your whole body moisturised.

These 100% all natural massage bars are handmade with skin nourishing cocoa butter, shea butter, beeswax, coconut oil and 100% pure essential oils.
Our other bars are fragranced with Essential Oils however we have left them out of this one for the very very sensitive skins making it Fragrance Free!
HOW TO USE:
The best way to use these and to make them last is straight after a shower.  Towel yourself dry and whilst your skin is still warm massage the bar onto your skin until you feel it start to melt......3 or 4 rubs per limb should suffice and them massage these beautiful oils into your skin.