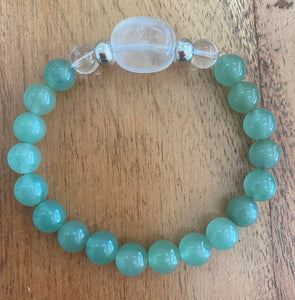 Green Aventurine is thought to be the luckiest of all the crystals. Full of winning energy it is a positive stone for manifesting prosperity, wealth and abundance. It not only brings good fortune, but also provides opportunities to help you to create your own luck.
Green Aventurine: provides strength, confidence, courage, and happiness. It renews one's optimism for life and pushes us to take action to acquire what we want in this world. This stone urges one to get out of their comfort zone and take on new opportunities. Aventurine is that of the 'heart healer'. It is linked to Anahata, the Heart Chakra which is the activator of love, appreciation, and inner harmony.
The central crystal is CLEAR QUARTZ to enhance the energy of the other crystals.
These beautiful AAA grade crystal bracelets are now made in house!
The bracelets have now been threaded with extra strong thread to eliminate the possiblity of them breaking.