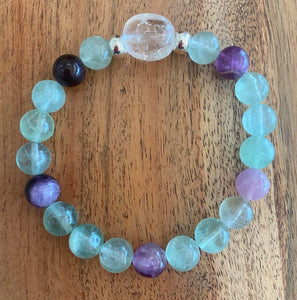 Fluorite is a stone heralded for its spiritual detoxification abilities and tendency to transform negative energy into positive energy, boosting our mental clarity and promoting peace of mind. The origin of the word "fluorite" comes from the Latin word flux, which means to flow.

It absorbs and neutralises negative energy and stress. An excellent learning aid, Fluorite increases our powers of concentration, self-confidence and helps us in decision-making. It encourages positivity, balances the energies, and improves balance and coordination, both physically and mentally.
The central crystal is CLEAR QUARTZ to enhance the energy of the other crystals.
Handmade at GypsyLune!  These beautiful AAA grade crystal bracelets are now made in house!
The bracelets have now been threaded with extra strong thread to eliminate the possiblity of them breaking.