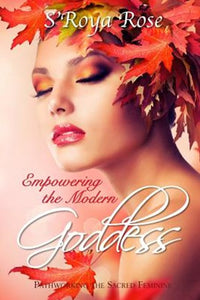 S'Roya inspires us all with her beautifully created and well written Empowering the Modern Goddess guidebook, recognised as a leader in her field she showcases her Modern Goddess Archetype Oracle cards. Designed specifically to help you claim and path work the Sacred Feminine whilst honouring her ancient traditions. They will guide you through lifes stormy waters by connecting you to the Feminine Archetypal powers. Each Goddess card initiates you into different aspects of the Sacred Feminine energy, bringing deeper awareness of your inner Goddess.
From their ancient wisdom you will gain insight as to how each Goddess can empower your life, help you understand your emotions, in fact all aspects of your female journey, from Maiden through Motherhood, to the Wisdom of the Crone. S'Roya has created a bridge that transcends the old ways, offering a new brand of feminine Deity energy. As you pathwork yourself as a 21st century Goddess or Priestess in training, use this book as a guide during your goddess journey, for spiritual healing, sacred rituals, meditations and Full Moon circles. Let the path working begin.Blessed be the Goddess )O(
ABOUT THE AUTHOR
S'Roya is a natural born Mystic of the modern age, a well known Clairvoyant-Psychic Medium, Energy Healer, Psychotherapist, Past Life therapist, Reiki Master & Teacher who has been working with spirit for over 18 years. Some of you may remember her appearances on Psychic TV or Reading at the Brisbane, Melbourne or Sydney's Mind Body Spirit Festivals and numerous psychic fairs throughout Brisbane, Gold Coast & Northern New South Wales. She is a gifted best selling Australian author and Celebrity Psychic, an initiating High Priestess of the Goddess, and Reiki Mater Teacher, who channels the angelic realms, and elemental, kingdoms. Her guides include the Ascended Masters, ancient Mystics, the Animal clans, and other cosmic Shamanic realms, enabling her to connect with your spirit guides and deceased loved ones as a medium.