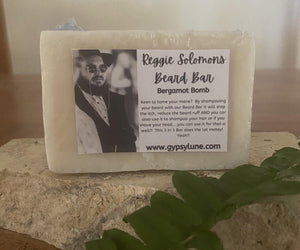 Reggie Solomon's Beard bars.......in Reggie's words......
Keen to tame your mane? By shampooing your beard with our Beard Bar it will stop the itch, reduce the beard ruff AND you can also use it to shampoo your hair or if you shave your head....you can use it for that as well!!
This 3 in 1 Bar does the lot matey! Yeah!!
Beard Bars are made with natural ingredients, which means that they are gentle on your hair and scalp. Traditional soaps often contain harsh chemicals like SLS, Paraben, Alcohol, Silicones etc., that can strip your hair of its natural oils and cause dryness and irritation.
These are great for travellers as they take up less space and can be used for shaving as well as a shampoo.
Fragranced with a blend of  Bergamot Vanilla.
Ingredients:  Glycerin, Aqua, Sodium Stearate, Propylene Glycol, Sorbitol, Sodium Laurate, Sodium Laureth Sulfate, Sodium Chloride, Sodium Lauryl Sulfate, Stearic Acid, Lauric Acid, Pentasodium Pentetate, Tetrasodium Etidronate.