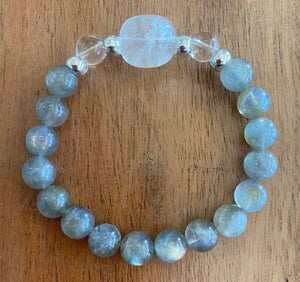 Labradorite stone is said to be a mystical and highly protection crystal stone. In this sense, it gives you protection from negativity and those people who can really sap your energy.
Judy Hall, the author of The Crystal Bible says Labradorite is a bringer of light. Hall goes on to say 'It raises consciousness and connects with universal energies. Labradorite deflects unwanted energies from the aura and prevents energy leakage. It forms a barrier to negative energies shed during therapy.'
The Central crystal and side crystals are CLEAR QUARTZ to enhance the energy of the other crystals
These beautiful AAA grade crystal bracelets are now made in house!
These new bracelets are threaded with extra strong thread to eliminate the possiblity of them breaking.