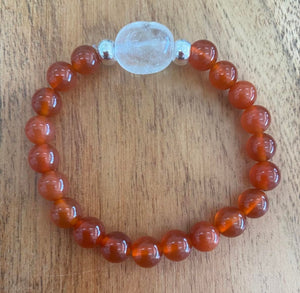 Carnelian's bright colour radiates positive energy and life force. Carnelian embodies the strong energy of the Element of Fire. It is a powerful Sacral Chakra stone and is supportive during new beginnings and spiritual rebirth. It also helps to stimulate the Sacral Chakra.
The central crystal is CLEAR QUARTZ to enhance the energy of the other crystals.
The Sacral Chakra is located in the reproductive region. It is the energy center that connects you to pleasure. Balancing your Sacral Chakra should eliminate feelings of guilt, shame and self-esteem issues. A balanced Sacral Chakra will awaken your sexual desire, intimacy, creativity and inspiration.
These beautiful AAA grade crystal bracelets are now made in house!
These new bracelets are threaded with extra strong thread to eliminate the possiblity of them breaking.