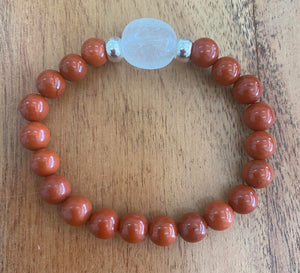 Red Jasper is a supremely nurturing stone and knows how to clear your root chakra. This rich chi rousing stone is all warm fire and fierce energy. It is also called the stone of endurance and known for raising motivation levels and helping you overcome obstacles and challenges. It does this by granting you the inner strength and confidence to take life by the horns.  It is a very grounding stone that assists you to keep balanced and grounded and to have a sense of safety.
It is associated with the root chakra. The Base or Root Chakra is the 1st of the 7 Chakras. It represents our most basic needs and desires, our safety and security. The base chakra is our need for physical and emotional safety - and energy! It is our foundation, from where we can then address our more complex emotions and higher thinking. Crystal healing for the root chakra can be as simple as placing these crystals on your lower back or wearing them via jewellery. Place them in your pocket while gardening, going for a walk or doing anything that connects you to nature. The root chakra likes nature! We need it to stay 'grounded' and getting in touch with the Earth is a great start. Be mindful of not wearing the bracelet when doing excessive gardening....maybe when watering or just spending time in nature.
The central crystal is CLEAR QUARTZ to enhance the energy of the other crystals.

Handmade at GypsyLune!  These beautiful AAA grade crystal bracelets are now made in house!
The bracelets have now been threaded with extra strong thread to eliminate the possiblity of them breaking.