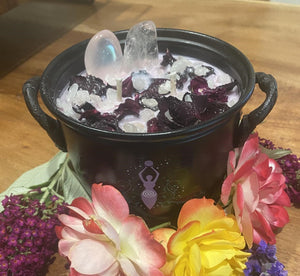 Our Afrodite Cauldron Candle comes in a reusable metal cauldron. 110ml across, stands 90 ml high and burn time is around 80 - 100 hours. 
Aphrodite is a force of nature, her energy urging us toward relationships. She is both the bringer of joy and the feared harbinger of passion. She is the Goddess of Love and the essence of feminine beauty and grace.
The Goddess Aphrodite showed that the human experience could be blissful. She demonstrated this by being completely unself-conscious in the celebration of her own beauty and the beauty of others and as a result she has the  ability to see the beauty in all people and things.
This Beautiful Muse aspect within us also has a great capacity to be empathetic towards others who are in emotional pain. If this aspect is dominant, we tend to be sensitive and compassionate as a result of our own experiences. However, if our empathetic tendency goes unchecked, we can be easily drawn into other people's dramas rather than stay detached and able to be of true benefit, both to ourselves and to others.
Above all, Aphrodite represents the transformative power of love.
The crystals are Rose Quartz and Clear Quartz.
Clear Quartz is all about spiritual growth, it loves enticing you to look deep. It's a crystal that connects with all the chakras, clearing out blockages, spring cleaning your aura and inviting energy to flow.
Rose quartz is known as a healing crystal and the stone of unconditional love. It's believed by some to emit strong vibrations of love, which are thought to: support emotional and relationship healing. inspire compassion. boost feelings of peace and calm.
Oils are a blend of: Bergamot Mandarin Tangerine, White Jasmine Green Fresh Muguet Rose, Amber Elegant Musk
When the candle is spent, remove the crystals and wash out in hot soapy water to remove any wax residue.  Use a teaspoon to gently remove the stickum under the old wicks.  Do not use any sharp instruments to remove as it may damage the surface of the cauldron.
Can be repurposed for your alter, burning incense or white sage or to collect the ash of the sage as you are smudging your home.