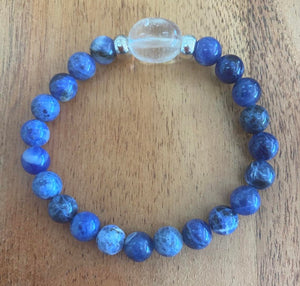 Blue Sodalite helps us know ourselves at a deeper level, giving us a renewed sense of confidence and self-esteem: Know yourself and be empowered. Accept yourself and be invincible. This is the magic of Sodalite. It gives you super powers that keep you shielded from negative forces in our imperfect world. The gift of knowing who you are is the foundation of all wisdom, so get connected with the Sodalite crystal stone and transcend the ordinary with its extraordinary healing powers.  It also assists in balancing the Third Eye Chakra.
The central crystal is CLEAR QUARTZ to enhance the energy of the other crystals.

Associated with The Third Eye Chakra brings the gift of seeing.  Its Sanskrit name, Ajna means both 'to perceive' and 'to command' referring to our ability to take in images and also to use imagination to form our own stories and pictures and thus to control our reality.  This is the chakra of the mind, intuition and wisdom that allows us to see beyond perceived reality, transcend limitations and attain spiritual clarity.