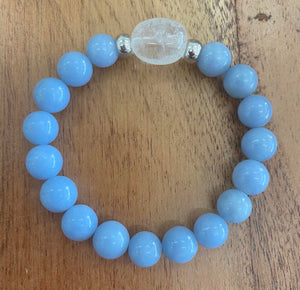 ANGELITE is an in-depth cleanser of negative energy that taps into those stashed away psychic abilities that opens your mind and heart to make astral travel a possibility along with nurturing gifts of telepathic communication, connections with spirit guides and guardian angels and invites you to connect to divine universal knowledge.
By choosing to wear Angelite jewelry you are truly opting to make the most of this richly angelic stone. Having the soothing blue hues of Angelite pressed directly against the skin invites all that healing white light and wonderful vibrations to sink down deep into your soul without delay. By carrying or wearing Angelite with you throughout the day, you are getting into the habit of keeping yourself open and ever ready for receiving whatever spiritual guidance the world has waiting for you.
The central crystal is CLEAR QUARTZ to enhance the energy of the other crystals.
These beautiful AAA grade crystal bracelets are now made in andmade at GypsyLune!  house!
These new bracelets are threaded with extra strong thread to eliminate the possiblity of them breaking.